The past ten years have been a big decade for gaming and for me as a gamer. I launched this blog (which I haven't posted to in more than two years). I became president of Metropolitan Wargamers in Brooklyn, NY, NYC's oldest continuously active gaming group, now in its fourth decade. And, I played a lot of games.
So, here's my oddball list of 16 games I deem as my favorite of the 2010s. My list isn't necessarily the most innovative games of the past ten years (although some are) and many are not widely popular (again, some are). These are the games that got back to the table over and over again as other new games came and went.
First up are a few games that capture my love of Marvel comic books and Star Wars from my 1970s childhood. Fantasy Flight Games has really exploded with Star Wars games over the past decade, and while I've played most of them, Rebellion and Imperial Assault are my standouts for capturing the story of Star Wars at the epic interplanetary level and as a sci-fi adventure campaign. Both games have incredible design, artwork and plastic miniatures which really speak to the toy nerd in me. The deck-builder Marvel Legendary also captures the teamwork which is the hallmark of Marvel heroes and villains. All three games take me deep into the real storytelling feel of being in the pages of a comic book or a movie.
My other childhood obsession was Dungeons & Dragons. Lords of Waterdeep captures the flavor of D&D within one its most fabled campaign settings dropped into a boardgame that feels like an adventure quest. Back to the classic RPG style of play, the D&D 5th Edition Starter Set brought me back to the table for the first time in years with a slimmed down all-in-one boxed rule set that felt akin to the fast-moving games of my childhood.
From superheroes, science fiction and fantasy, my love swings to American history. The American War of Independence plays out n my two favorite games of that period — Liberty or Death: The American Insurrection and 1775: Rebellion. In 1775, a simple block, card and dice mechanic allows play of the entire war in about 90-minutes and serves as a fantastic entry into the period and wargaming. With LOD, GMT's COIN (counterinsurgency) mechanic of asymmetric conflict breathes new and nuanced complexity of the often-simplified formative American story.
From the American Revolution, my interest stepped back to the French and Indian War. This was the period that really fired my imagination the past few years with a dive into dozens of books and several long trips visiting historic sites of the era in Virginia, Pennsylvania, Maryland, West Virginia and New York. A Few Acres of Snow was my first game of the period and remains one of hands-down favorites with its two player asymmetric, deck building that still challenges over multiple plays as the French and British. My miniatures wargaming interest also swung heavily to the FIW with Muskets & Tomahawks. The quick-playing, card-driven mechanics of the game really captures the clash of British, Indian, French and Canadian forces, and I've spent countless hours researching and writing historic scenarios for significant engagements of the period which I've run at multiple miniatures gaming conventions as well as my club. A new version of the long out-of-print rules is due in 2020, so I'm very much looking forward to what the game brings next.
Two other historical games I've loved deal with two difficult subjects that have significantly shaped American history. Freedom: The Underground Railroad tackles slavery and the fight of abolitionists to bring it to its end through exceedingly challenging gameplay that involves often heartbreaking choices of who does and doesn't make it to freedom in Canada. Fast-forwarding to the 21st-century, Labyrinth: The War On Terror covers the endless war of the US and coalition forces in the Middle East. As the wars continue, the game has received updated expansions bringing the game's events and mechanics right up to the current news of the day from the 9/11 attacks to the Arab Spring to today. Both games show the power of games as tools to model and understand history ways few others do.
With time at a premium, there were a few games that filled the gap for 30-minute or less time slots at the beginning or end of a long evening's game session or when a quick game just fits the bill. The patterned tile placement in a Azul is great for my non-gamer friends as well as experienced players, plus, it has my favorite mechanic of pulling the very satisfying heavy tiles out of a bag. Fuse also has a tactile angle with fast rolls of dice placed into patterned puzzles to be solved against a nerve-wracking countdown app. Finally, The Mind takes a super simple deck of 100 chronologically numbered cards and turns it into a really interesting exercise in how we play collaboratively with others without the benefit of verbal communication.
I play a lot of the above games and others with my family, and one we've returned to repeatedly is Five Tribes. The game, set in a fantasy sultanate, scratches all the Eurogame itches of colorful wooden meeples, a modular board, beautiful card artwork and some easy to grasp but hard to master strategies. We've taken this game on the road more than just about any game in my collection.
Finally, I wasn't alone in my obsession with the wildly-popular Root. The game combines so many things I love about games — fantasy, adventure, great art — in an asymmetric clash of woodland animals. With what it presents simply on the surface, the game taps into a wargaming feel that bridges all the games I've enjoyed so much over the past ten years.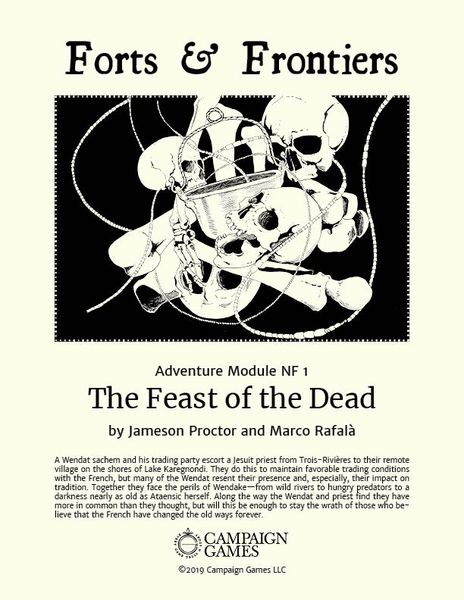 Aside from all the games above I've enjoyed, I have to also celebrate the 2010s coming to a close on a personal gaming note. After some fours decades as a gamer, I was thrilled to co-found Campaign Games and launch a successful Kickstarter in the late summer of 2019 for Forts & Frontiers: The Feast of the Dead Deluxe. Combining the mechanics of D&D 5th Edition with my love for the story of 17th-century European-Indian history in North America, the game was well-received during Free RPG Day 2019 and continues to playtest well at conventions. To end the year and decade on the other side of the table as a game creator is a thrill I'll watch unfold over the coming year and into the 2020s.