North America in the 17th-and-18th-centuries was a clash European and Native cultures in many ways – ways of life, ways of trade, ways of war and ways of faith. Faith for all people in this era was not an abstract but a truth that informed every part of their existence. Finding ways to incorporate the dynamic push-pull between these faiths into games provides an interesting challenge and opportunity.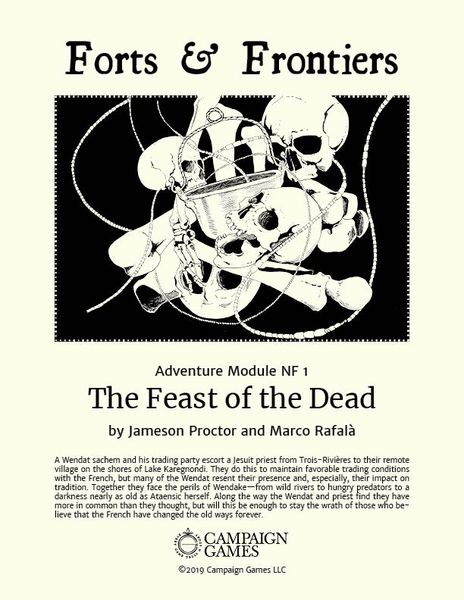 In 2019, two partners and I in a founded Campaign Games to create games with a focus on history and narrative play. That spring, we introduced a Dungeons and Dragons 5th edition compatible role playing game adventure called Forts & Frontiers: The Feast of the Dead as part of Free RPG Day. A month later, we successfully funded a Kickstarter to expand the game into a deluxe version with a more fleshed-out game system focused on the friction among cultures in colonial America.
As part of the Kickstarter, we were thrilled to partner with Sash and Saber Castings to create two exclusive miniatures as part of their expansive French and Indian War line of 28mm models.
False Face Society Shaman
The False Face Society figure depicts a member of the Haudenosaunee healer tradition. Wearing a fearsome carved and painted wooden mask and carrying a turtle shell rattle, a member of the society would make rounds twice a year to chase away evil spirits and disease from a village. Masks came in a lot of varieties, including some woven from corn husks, and the healing rituals would also include singing and burning tobacco.
Jesuit Priest
The Jesuit Order was founded in Spain in the mid-1500s and its member missionaries spread through North, Central and South America in the 17th-and-18th-centuries. Rooted in Catholic faith, Jesuits lived a life of meditation and contemplation of Jesus Christ. Intellectually, they sought to bring formal education of languages, history and science in a reform of church leadership.
Missionaries to what Europeans called the New World viewed natives of these regions to be in need of saving through baptism and rejection of their perceived savage rituals and traditions. At the same time, Jesuits were at odds with European secular colonial governments for their documentation of native cultures and languages during their years of living among these people. Effectively living between the two societies, Jesuits were famously the victims of torture and martyred execution by natives who recognized the threat they symbolized.
With no experience in the wilderness of the Americas and only their faith to guide them, Jesuits ventured deep into heart of the country largely unexplored by other Europeans. The Jesuit figure depicts the plain dress and spare possessions of a missionary of the era, clutching a Bible close to his heart and a cross hanging from his waist.
Together, the False Face Society Shaman and Jesuit models depict two competing traditions of faith in the Americas during the era of European colonization. In each tradition, rituals and physical items — whether a turtle rattle, mask, Bible or cross — provide opportunities for contrast but also a shared belief that something exists beyond the physical land where people clashed for domination.