Quite some time ago, I wrote a round-up of my favorite boardgames of the French and Indian War. Since then I've been focusing pretty exclusively on the FIW using 28mm miniatures and Muskets & Tomahawks. I've also spent a lot of time over the past year reading about the period and visiting historic sites in New York, Pennsylvania, Virginia, Maryland and West Virginia that tell the story of the FIW.
Between travel, research, painting miniatures, building scenery and running through tabletop scenarios of the period, I've continued to build up my collection of FIW-themed boardgames. With that, I have a second list of more of my favorites from this empire-defining conflict in North America.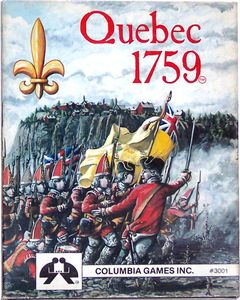 Quebec 1759 (Columbia Games)
You can't beat Columbia Games for their quick-playing and unique block games for which they are known. I have Liberty: The American Revolution 1775-83, their American Revolution game, on my shelf, and about a year ago I finally to picked up a copy of their FIW game Quebec 1759.
Released in 1972, Quebec 1759 was one of the first block wargames produced and has remained in print for 45 years as a game perfect for entry level players as well as those experienced in the hobby. I've been trying to track down a first printing of the game for a while for the embossed blocks, but I couldn't pass up a great deal on a 1980s edition with 50 stickered blocks for $20 at a convention flea market a couple years back.
Map and wooden blocks from Quebec 1759
Playable in about an hour or so, this classic abstractly captures the meeting of the British forces led by James Wolfe and the French defenders commanded by Louis-Joseph de Montcalm in September 1759. The decisive Battle of the Plains of Abraham outside Quebec City left both men dead and was the beginning of the end of French rule in North America.
Typical stickered wooden blocks from a mid-1980s edition of Quebec 1759
My near perfect copy captures the charm of the original edition with its signature wooden blocks, 10″ x 32″ elongated heavy cardboard map and a mere four pages of rules. The game is played over 16 turns with each side — British and French — plotting their moves in advance on paper and then simultaneously revealing them. There are no spaces on the map. Instead ten road-connected land zones and a bisected St. Lawrence River.
The game has remained a classic for a reason, notably its fast play that rewards numerous replays and taking turns on either side.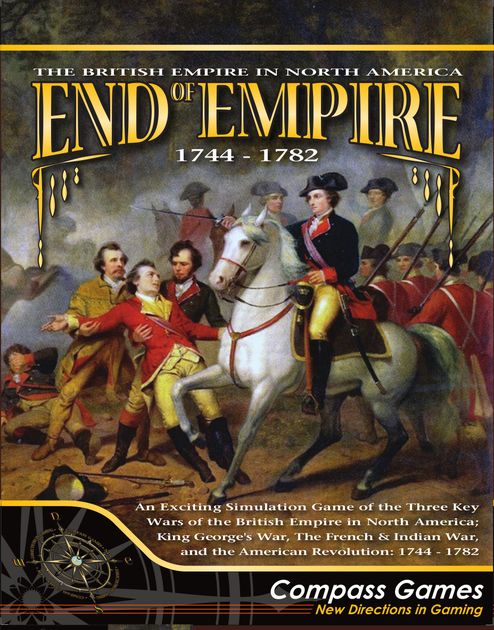 End of Empire: 1744-1782 (Compass Games)
Command was a bi-monthly magazine published between 1989 and 2001 which focused on military history, strategy and gaming. Issue 46 from December 1997 features articles on New France, the American Revolution, George Washington and his spy network, and famed traitor Benedict Arnold. The issue also contains a full hex and counter game called End of Empire which captures the grand sweep of North American history from the 1740s through early 1780s. The game was subsequently reprinted as a box game from Compass Games as End of Empire:1744-1782.
My copy of Command #46 featuring End of Empire just prior to punching the counters
End of Empire covers a wide period from King George's War, FIW and the American Revolution. Over a dozen scenarios allows play of specific conflicts or campaigns in a few hours, and a full game is playable over the whole period that will run to more than 15 hours for truly committed players. The game is regimental in scope with a huge hex map spanning the entire North American East Coast and contains hundreds of color counters representing British, French, Spanish, Indian and Colonial forces. For a real deep dive into nearly 40 years of colonial conflict, this is the game.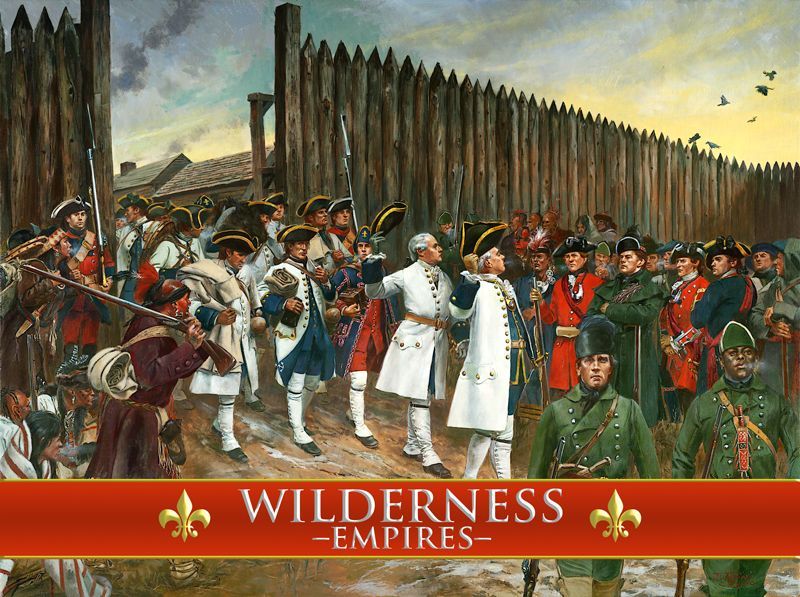 Wilderness Empires (Worthington Publishing)
I'm a big fan of Worthington Publishing's games. I have three of their American Revolution games – New York 1776, Trenton 1776 and their latest, Saratoga 1777. The simple graphic maps and wooden blocks make Worthington's games easy to grasp while also providing some great strategic play specific to the conditions of certain battles and campaigns.
Map detail and wooden playing pieces from Wilderness Empires
With Wilderness Empires, most recently reprinted in 2016, Worthington captures the larger scope of the grand strategy of the FIW in a mix of point-to-point movement, blocks and cards. Designed by my pal Bill Molyneaux, a FIW reenactor and game designer, the game is steeped in real history while producing introductory level play of the period for 2-4 players.
French (top) and British (bottom) cards from Wilderness Empire featuring original art by Don Troiani
The components are hefty 1″ wooden blocks with nicely rounded corners representing French, British and Indian forces. Indian towns, special wood dice, a large board and cards featuring beautiful original art by Don Troiani round out what's in the box. Their artwork aside, the cards provide tactical play of reinforcements, leaders, campaign actions and specific play of historical units such as Rogers Rangers and Indian allies.
If you're lucky, you can track down this recently out of print game in gift shops at various historical sites and forts in the northeast for a great intro to the period.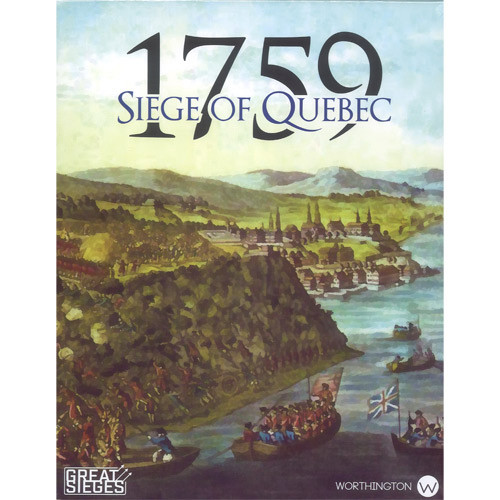 1759: Siege of Quebec (Worthington Publishing)
Worthington has also produced a new spin on the famed siege of the era with 1759: Siege of Quebec. The game presents a bit like the classic Columbia game covering the same battle but with a unique 2-in-1 package that allows for both 2-player and solo play, a rarity for games of the period.
The beautiful map for Worthington's 1759: Siege of Quebec
This game is gorgeous. The area movement map is bisected with by the St. Lawrence River and has defined deployment areas for stickerless blue (French) and red (British) blocks. In the 2-player game, separate hands of Command Decision cards and Command Field Orders books allow each side to make selections on what they do each turn. Cards are revealed and resolved, with casualties and morale tracked toward victory. The solitaire game uses a separate set of cards but plays out in a similar way.
The game falls into the modern string of fast-play "lunchtime games" which typically run less than a half-hour, making 1759 a great modern spin on the often-covered battle.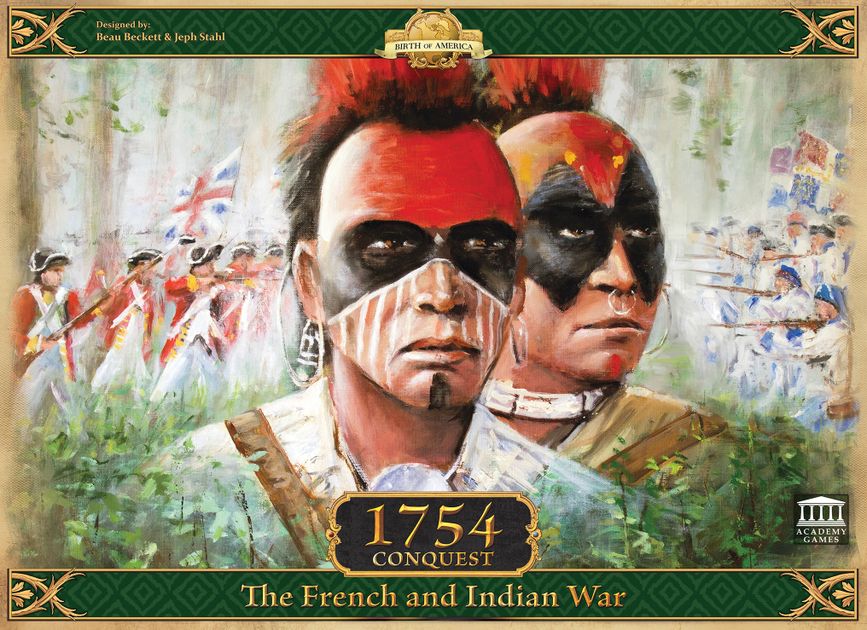 1754: Conquest – The French and Indian War (Academy Games)
I've long been a devotee of Academy Games and their take on American history through their highly accessible and educational games. I have copies of their American Revolution game 1775: Rebellion, 1812:The Invasion of Canada and the immensely challenging Freedom: The Underground Railroad, so when I heard they were producing a FIW game, I knew I'd be getting a copy.
Set-up of 1754: Conquest from Academy Games
The game, 1754: Conquest, follows the same basic mechanics of 1775 and 1812 and rounds out Academy's trilogy from their "Birth of America" game series. All three games feature wonderfully colorful maps with area movement of small cubes using small hands of action cards keyed to historical events and personalities.
One of my many plays through 1754: Conquest
In multiple plays of 1754, I've found it to be the most challenging in the series. Fortifications, muster points for militia and harbors for arriving British and French reinforcements all reflect the major points of control important to the war. As with all games in the series, this one serves as a great entry into wargaming the period while also providing a challenge to more experienced gamers.
Bayonets & Tomahawks (GMT Games)
One of my most anxiously-anticipated games is GMT's Bayonets & Tomahawks which has been on their P500 pre-order since 2015. There's been a steady drip of development and playtesting articles over the game's long gestation, and in late 2019 some near-final box art was made available.
A 2018 playtest map for Bayonets & Tomahawks, slated for delivery in late 2020
As with all things that come out of GMT, the looks like its going to be a beauty with custom dice supporting a unique battle system and full-color round, square and triangular counters for different forces, fleets, forts and game conditions. The playtest map looks stunning. The game will play over shorter scenarios or the full war with raids, battles, construction, sieges and naval actions. Cards will support historical events and military actions. Having not gotten my hands on it as of yet, I can't wait to unpack and punch this game when it becomes available, hopefully in late 2020.